In remote areas of Myanmar, formerly Burma, only 34% of families have access to electricity . Together with the Yoma Micro Power association, CE+T Power provides power converters at the heart of the microgrids installed in order to supply electricity to isolated populations.

Microgrid installation in Myanmar
The National Electrification Project (NEP)
In 2014, the National Electrification Project (NEP) has been held in Myanmar. The goal of this project is to provide electricity to 100% Myanmar households by 2030. At the time of project launch, this meant powering more than 38.000 villages. Currently, Myanmar's electricity grid provides electricity to only 30% of the population.
The project is based on two main objectives. First, the expansion of the existing electricity grid. Second, the installation of microgrids in rural areas.
The second part of this project was assigned to the Yoma Micro Power association. Its mission is to "Build a better Myanmar for its people by harnessing sustainable energy resources" . To do so, the association installs and exploits microgrids with solar panels in remote areas.
To carry out the program successfully, Yoma Micro Power raised international funds. Their business model is based on the selling of secured power to the telecom equipment (connected to the microgrid) and some additional subsidies for supplying electricity to the households.
Microgrid installations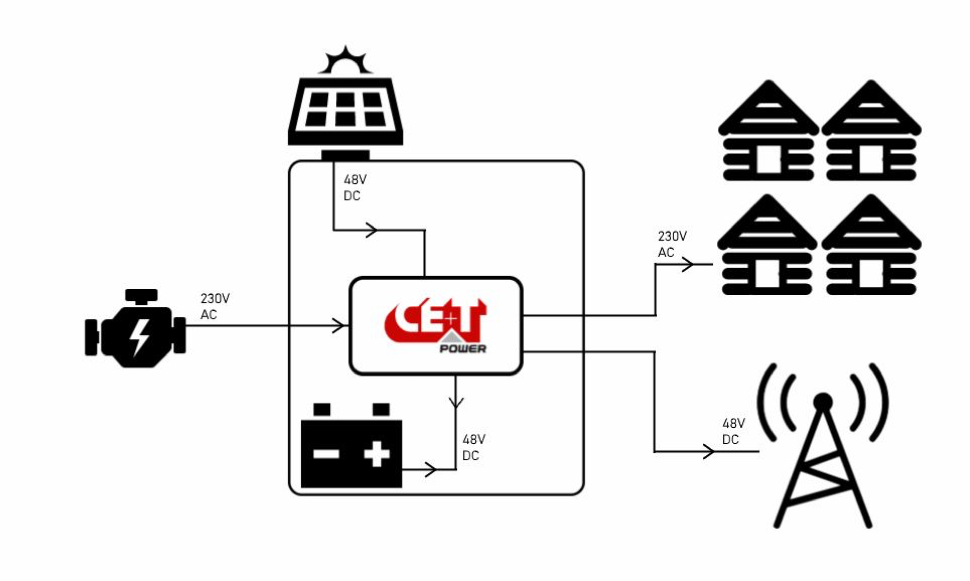 The microgrids are composed of different components: two energy sources (a diesel generator and solar panels), energy storage (as a backup solution and to store electricity when the sun is shining and give it back when it's gone) and two types of loads (houses and telecom towers). But all these loads operate with different voltages: 48V in direct current for solar panels, batteries and telecom towers and 230V in alternating current for diesel generators and houses. Convert the power is CE+T Power converters' role.
Microgrid installations are not new but adding renewable energy is good for the planet and the wallet. Indeed, diesel is already an expensive energy source, but the price is even higher in remote areas, as there are additional transportation costs.
The requirements for these microgrids are the ease of installation and maintenance (trained technicians are not easily available in remote areas), conversion efficiency (optimizing the use of solar and diesel energies), availability (telecom towers are powered by the microgrid) and compactness.
How CE+T Power helped?
CE+T Power converters are known for their reliability, compactness and conversion efficiency. Maintenance is also made easy thanks to the "hot swappable" feature, which makes it possible to replace a power converter as easily as replacing a coffee capsule from your coffee maker. By winning the Google Little Box Challenge in 2016 and developing the smallest inverter in the world, CE+T Power's leadership in compactness and reliability has also been proven.
In 2018, CE+T Power, in collaboration with Lineage Power, delivered power converters for 100 microgrid solutions. In 2019, Yoma Micro Power asked Lineage Power and CE+T Power to deliver another set of a hundred of microgrid solutions. As of today, CE+T Power converters are already supplying electricity to 50 remote villages.
In addition to bringing lighting and entertainment to these villages, the installation of microgrids allows real development: telecommunication towers are being built and allows communication with the rest of the country but also the possibility of developing new economic activities through electricity.
CE+T Power is proud to have helped bringing renewable electricity to isolated villages in Myanmar and providing them with the means to communicate with the rest of the world.