Context
Today, rail infrastructures and networks across the world are increasingly loaded with trains traveling at higher speeds, with ever-increasing loads and carrying greater numbers of passengers. The combination of these factors causes considerable strain on the existing infrastructure, leading to increased demand for the inspection and maintenance of railway assets. For this reason, vehicles and measuring systems must be efficiently powered without interruption.
Project description
The end customer is Infrabel, the Belgian railway infrastructure manager. In a few figures, the railway infrastructure in Belgium for which they are in responsible represents more than 3,600 kilometers of railway tracks. With such a wide network, the customer had significant needs in terms of backup power for its measuring vehicles.
Measuring vehicles
The measuring vehicles look like wagons and normal trains, but actually they are much more than that. At CE+T Power we are very lucky to have trustful partners who take us on site. There was a maintenance operation with battery swap. On this occasion, we visited the equipment in Schaerbeek with our partner Infrabel.
How does it work? The locomotive pulls the measuring car like a wagon. Operators on board use measurement tools. The measuring vehicles allows Infrabel to measure antenna signals for GSM-R and to validate that the infrastructures are functional.
Customer requirements
Infrabel needed to provide 5kW of clean power – free from spikes and voltage drops – to its measuring devices with space constraints. Three types of loads are connected behind this equipment in order to:
Power the measuring instruments that measure the GSM-R antenna signal
Check the connections between a catenary and the electrical cable
Validate and test the new radio equipment
Solution proposed
CE+T Power provided two modules TSI Bravo 48 / 230, one rectifier, batteries together with monitoring T2S and a Can Display. The Bravo modules allow Infrabel to have the 5kW power required for their equipment. That way, their critical loads are backed up by the TSI Bravo.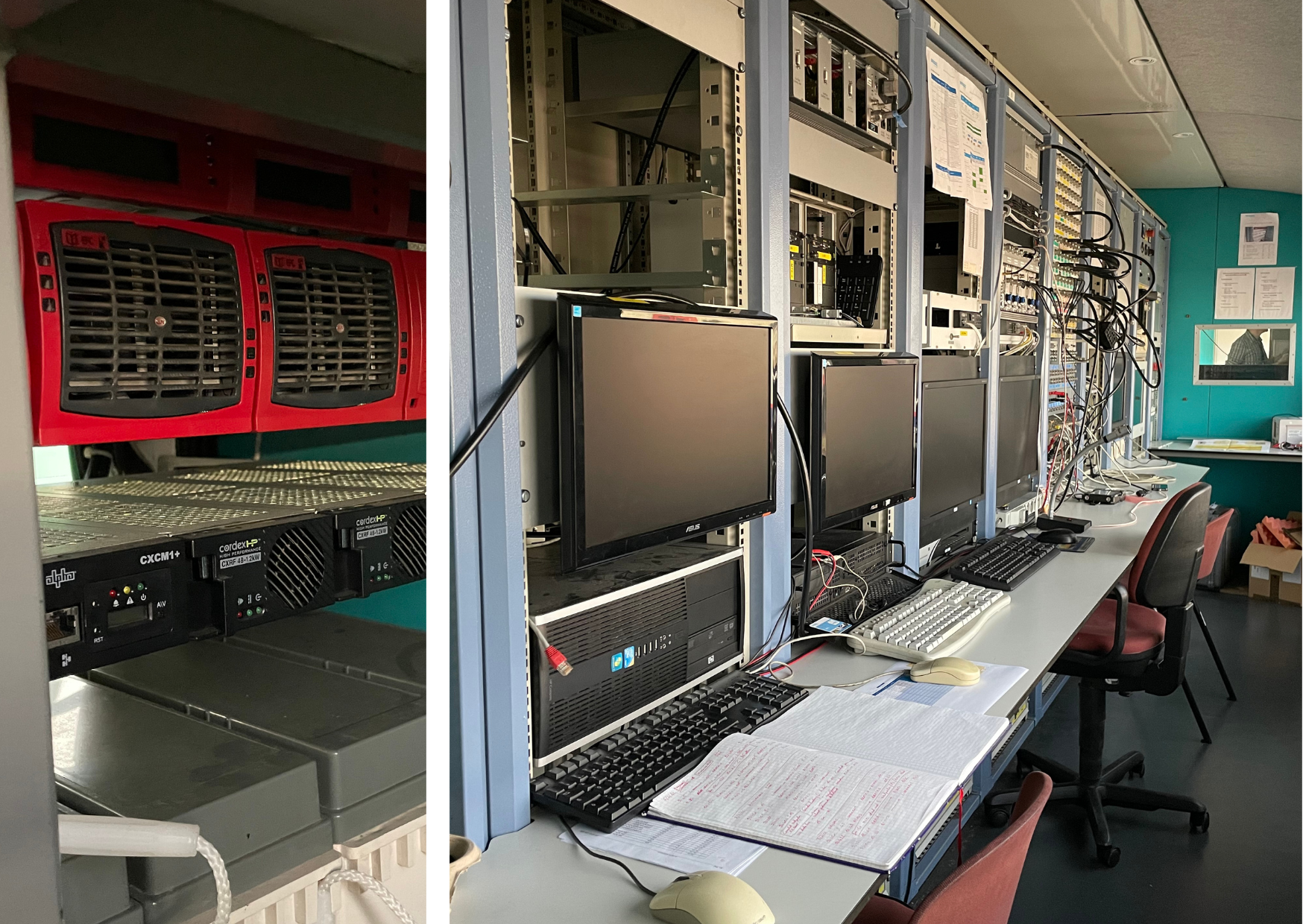 Why this choice?
Our modular inverters are a good choice when you need to reduce energy loss and increase the overall efficiency. Indeed, the TSI Bravo is very compact and modular as it adapts to any needs (from 2.5 kVA to up to 80 kVA). Finally, it provides a pure sine wave.
This solution has been in place for several years now and still works perfectly. We ensure that our equipment is doing its job well through regular on-site maintenance by our team of CE+T Services technicians.
However, since this installation, our range has evolved and so are the solutions for this type of application. Discover our Bravo 25 serie, the newest modular inverters from our range or go further and check all the incredible functionalities of our multi-directional converters, the Sierra 25 serie.