Today, we see an increasing limitation of using gensets or vehicle engines in large cities. However, some vehicles still need an on-board solution for power supply. An alternative to the gensets and polluting solutions has to be found. That's were CE+T comes in.
On-board specifications
As the solution is on-board of vehicles, it implies some specific requirements. First, the environment is different than off-board. Therefore, the solution has to be vibration-proof (as the vehicles move and the road not always flat) and the temperature range for startup has to be wider. Moreover, concerning the entire solution, the batteries have to be protected for long shut down and the solution has to fit in a small space.
Solution
CE+T provided a customized solution that can operate either on 24V or 48V range and provide a total power from 6 up to 10kVA, depending on the loads' capacity requirements. To achieve this, we had to upgrade both software and hardware of our modules.
Software upgrade
The remote on/off function control both input and output of the inverters to protect the battery for long shut down. Moreover, the static power dissipation has been reduced from 4W/h to 0.4W/h per modules for total input of 6kVA. Finally, the low temperature for startup is now -40°C instead of -20°C in a standard solution.
Hardware upgrade
In order to be vibration-proof, we have upgraded our hardware by replacing the plastic cover by metal panel. We have also fixed bridge across the shelf to avoid modules moving when the vehicle is moving. Finally, components and connectors have been strengthened to reduce removable space and avoid them to break or move when the vehicle is on the road.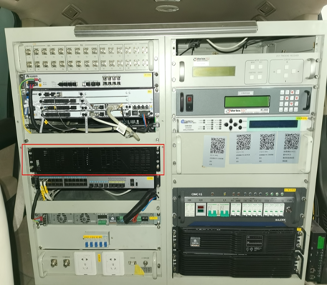 Another key point in on-board applications is the space constraint. Thanks to the high power density and small footprint of our solution, it can easily fit in a vehicle. Moreover, the modularity is very helpful in case of maintenance or replacement of a module.
Applications
Today, we have solution up and running on 400 vehicles for military purpose and there are more to come.
However, on-board power supply is not only used in military but also for emergency vehicles for video broadcasting and communication in ambulances, fire trucks or police vehicles. This can also be installed in a train.
What's for the future?
Following this customer's demand, we were able to provide a customized solution for on-board vehicles. However, we want to go a step further and provide a solution for a wider range of applications and needs. Therefore, we worked on a new concept based on our multidirectional converters. Be connected to learn more about this!