Terug nieuws
news
Our sustainability efforts recognized by EcoVadis
Company life • 08.07 2021
In recognition of sustainability achievements, CE+T Power has been awarded a bronze medal by EcoVadis – the world's most trusted business sustainability rating organization.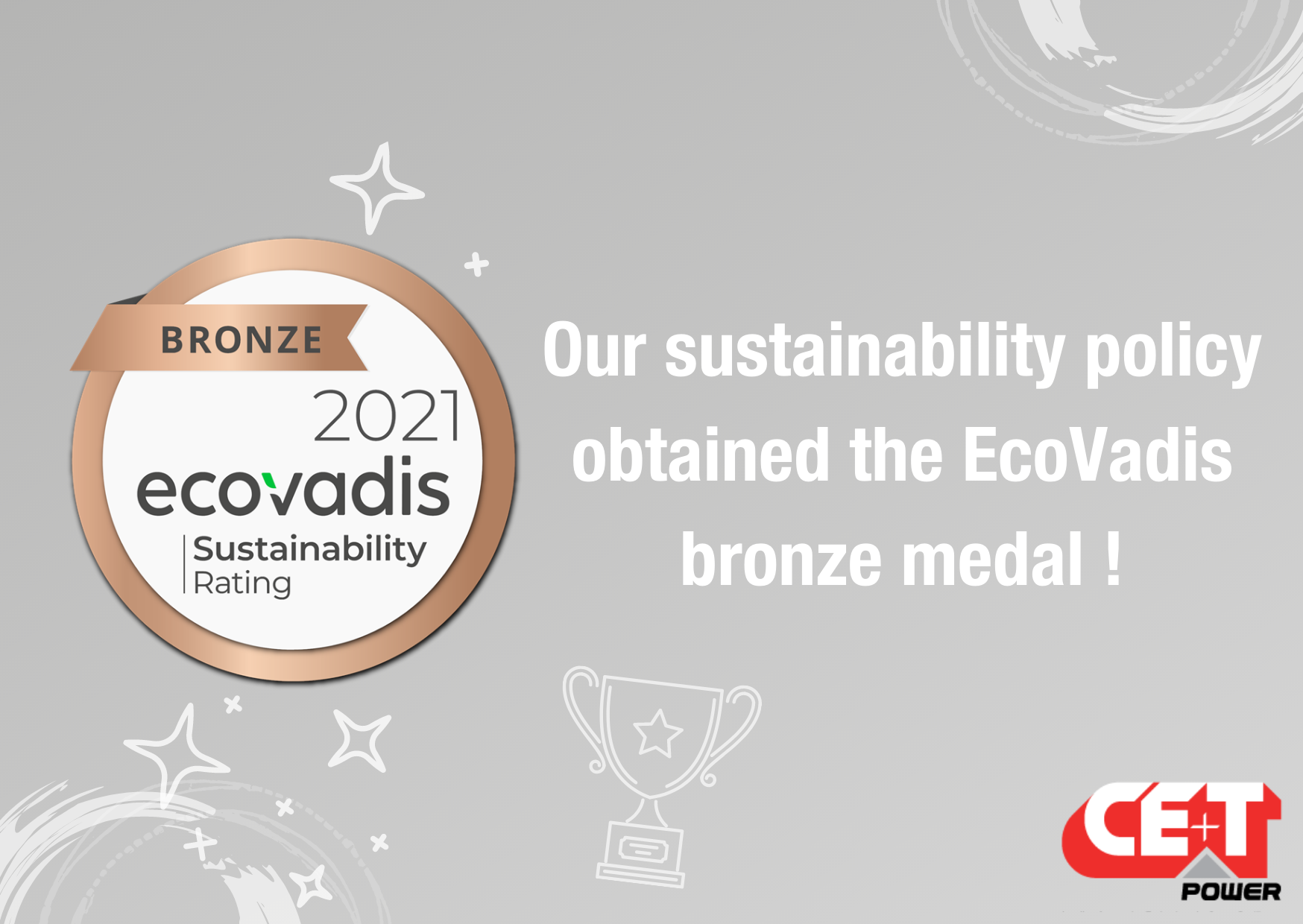 How did we get this bronze medal?
EcoVadis awarded a bronze medal to CE+T Power for its sustainability achievements. The company was rated based on a sustainability scorecard which illustrates performances across four main themes: environment, labor & human rights, ethics, and sustainable procurement. This is the second time that CE+T Power submitted a report for evaluation and was awarded a bronze medal. The result places CE+T Power among the top half of all EcoVadis assessed companies globally.
About EcoVadis
EcoVadis is a trusted business sustainability rating organization. They created a global network of more than 75,000 rated companies and they evaluate them based on a sustainability assessment. The score of the evaluation demonstrates how well a company has integrated the principles of Sustainability/CSR into their business and management system.
How important is sustainability for CE+T Power?
Sustainability is high on the agenda for CE+T Power. This result is the fruit of the rigorous efforts made by the company. Therefore, it highlights its continuous progress in the area of Corporate Social Responsibility (CSR).

"Sustainability must be embedded in the culture of companies." believes Didier Dejace, CEO of CE+T Power. He states in the newspaper L'Echo "When sustainability stems from the company's values, it creates a strong signal and gives rise to a powerful movement within the organization. Employees are then a natural part of the process." Our score with EcoVadis confirms the relevance of CE+T Power's strategies and values.
What actions do we take?
We received a special mention in the following categories: "Environment" and "Social and Human Rights". Among the actions taken by CE+T Power, we can cite the implementation of new actions such as procedures at different level. Firstly, we have procedures at an environmental level regarding product use, product end-of-life, waste management and energy consumption. Secondly, CE+T Power has formalized statements, commitments, and operational objectives on the management of its labor and human rights practices. For instance, we have a work council representing the employees, a SCC certification, on site prevention, to name just a few. In short, this bronze medal is the first milestone of our journey to sustainability!