Today, companies have multiple ways of producing their own energy. Their consumption varies and sometimes, they have a huge amount of energy left. This energy can be sold to energy suppliers. However, the price at which this energy is sold varies day by day, hour after hour.
That's where the CE+T Group comes in: with a collaboration between the entities of the Group, we offer solutions that help you manage your energy consumption.
How do we do it?
By combining the knowledge and experience of CE+T Energrid in energy management, Alpha Innovations in monitoring solutions and CE+T Power in manufacturing of innovative converters.
Solutions for renewable energy
We offer 3 technology platforms, each based on innovative converters with 3 bidirectional ports. With one single module, you can connect anything!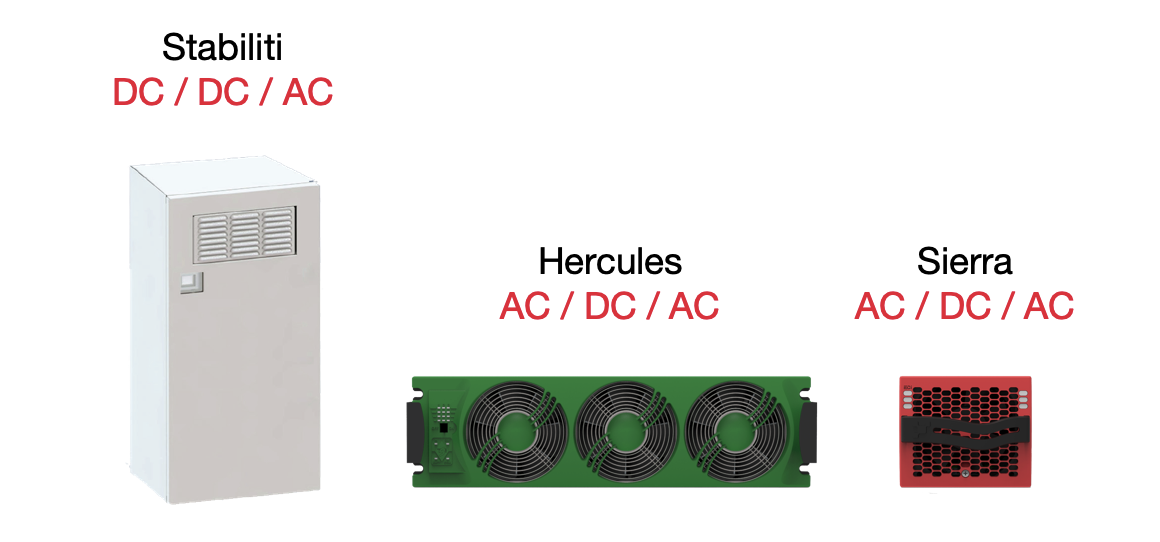 Regarding energy transition, we can introduce new features for energy management such as:
Peak shavings (to reduce costs)
Increase in self-consumption (with storage solutions)
Response to demand(to shift consumption over time)
Pure powersupply (no voltage drops, sag or surge)
MPPT
…
Monitoring
Alpha Innovations has years of experience in monitoring solutions. Among them, the Universal Compas Controller (UCC). The UCC communicates with the servers of the energy suppliers to define the quantity of energy that is required on their networks. This information is translated into electrical signals that are then used to control the sources and the loads.
Power backup solutions
The innovative solutions developed by CE+T Power are used for power backup but also for energy management. The features and high reliability of the modules bring an added value to our customers. 
What are the key advantages of our innovative solutions?
Customization
If you have specific requirements, we can take them into account by developing custom modules and monitoring solutions. We have teams of engineers in each entity who work together to design, build and manufacture the solutions that best meet our customers' needs. Moreover, depending on the situation, the UCC can easily be reconfigured.
Grid Stability
Our solutions help stabilize the grid. By communicating with the energy supplier, you can help balance production and consumption on the network. That's what the UCC does. Moreover, the power supply solutions have features that also help with grid stability such as demand response and an increase in self-consumption.
Cybersecurity
Our solutions imply a constant communication with servers, it is therefore crucial for them to be protected from cyberattacks, which is a tangible concern for all our customers. Thanks to our monitoring solutions, all communication can be encrypted using TLS. Moreover, our UCC supports a wide variety of highly reliable protocols.
For which applications?
Our solutions can be used in all applications where energy optimization is important. For example, they can be useful in small power plants that use renewable energy, co-generation or biomass. Another example of application is in the railway sector where power hubs are required in remote areas. In the telecom sector, as small losses are multiplied by thousands of systems, our solutions provide smarter energy management.
Do you also need help with energy management?
Contact us