Volver a las noticias
news
Our range of Sierra converters is extended to fit with extreme weather conditions
Products • 20.12 2021
Nowadays, climate change affects extreme weather around the world. Therefore, our products need to adapt. CE+T Power's Sierra converters range is extended for more functionalities and robustness for harsh and extreme environments conditions in applications.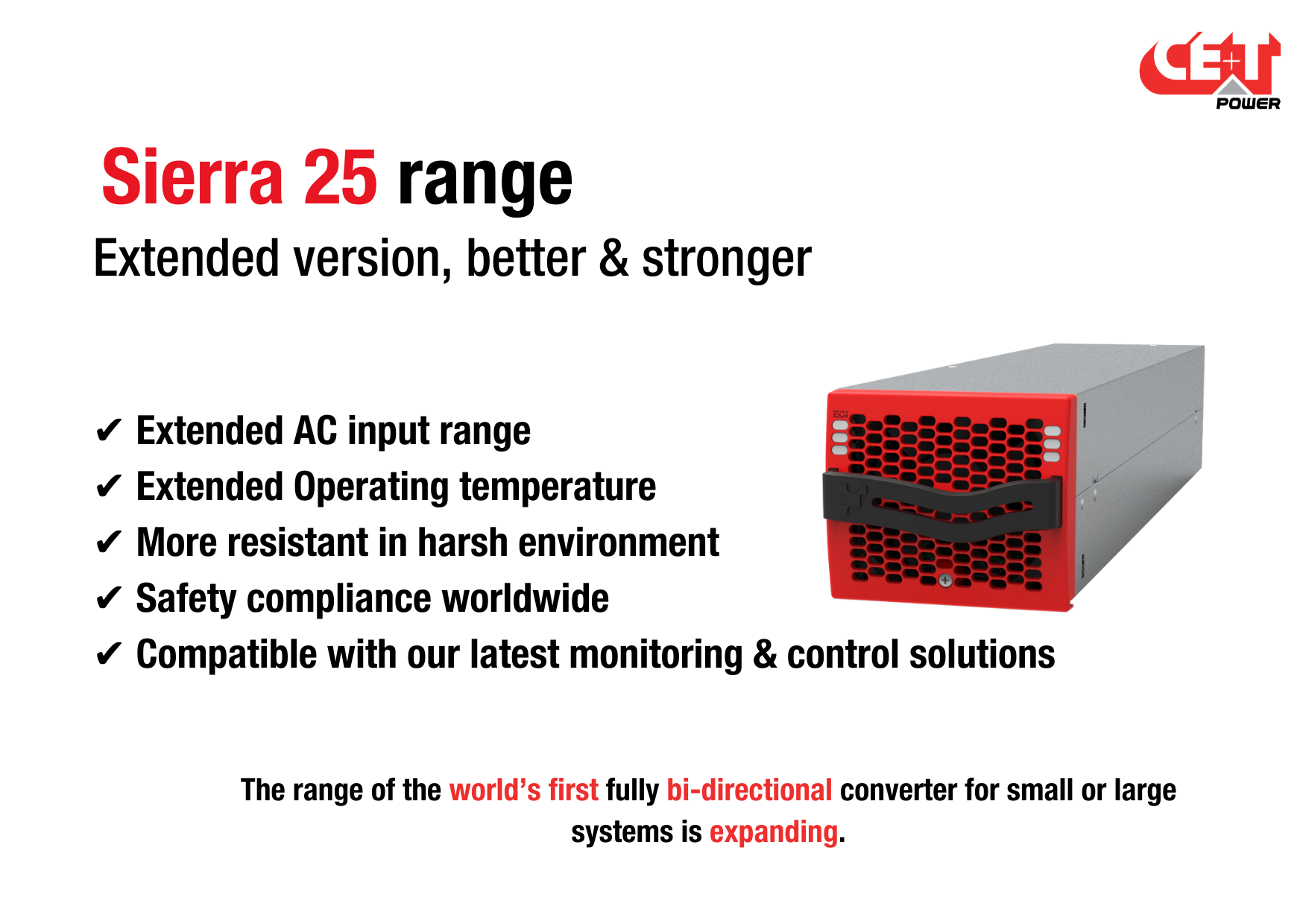 What is Sierra 25?
The Sierra 25 is a bi-directional converter for small or large systems. This converter is ideal for mission critical and energy management applications. The 3 l bidirectional ports allow for multiple innovative applications such as grid reinjection, peak shavings, phase balancing or energy sharing through DC distribution, among many others.
Converters for extreme weather conditions
The world experiences some extreme weather conditions such as floods, heatwaves, droughts, and storms due to climate change. Consequently, our products needed some adaptation and upgrade. We are pleased to present our new range of Sierra 25, an extended version: better and stronger. Indeed, our converters can be used for extreme weather conditions. The powers remain the same, but the products offer extended functionalities.
The range Sierra 25 is extended
Our range of Sierra 25 gets its biggest upgrade ever. Indeed, CE+T Power's range of a bi-directional converter, the Sierra 25, comes with an extended AC input range from 150 to 293 Vac. Secondly, the extended operating temperature has been reviewed. Their full operating temperature range is now -40 to 65°C, which means they can be used in extreme conditions. Furthermore, we reinforced the casing to make it more resistant to corrosion and salt. They also feature a safety and EMC compliance worldwide CE, UL. Finally, they are compatible with our latest and brand-new monitoring and control solutions. This enable us provide our customers with reliable all-in-one solutions.
Looking for a resistant and reliable bi-directional converter ?
Find your harsh environment converter