Case study overview
Project: power backup of an airport infrastructure
Location: Copenhagen
Date: 2019
Challenge: Upgrade the UPS solution while maintaining the existing infrastructure
Solution: 5 UPS cabinets of 60kVA each and lead-acid batteries
Partner: Desitek

Customer's problems and needs
Our customer had 5 cabinets with UPS and batteries installed. As the UPS inside were coming to their end-of-life, it was time to change them. However, the customer wanted to keep the same power infrastructure configuration. Concretely, this meant keeping all AC connections and power distributions, having an external manual by-pass and batteries in 5 different cabinets.
Solution
Revamping and customizing
At CE+T Power, we can either provide standard solutions or customized ones. In this particular case, as our priority was to meet the customer's requirements, we adapted our solution to the existing infrastructure.
Therefore, while keeping the existing AC connections, we delivered 5 cabinets each containing:
New UPS: 2 AGIL modules of 20kVA each
1 AGIL with Smart By-Pass
A set of new lead-acid batteries (delivered and installed by Desitek)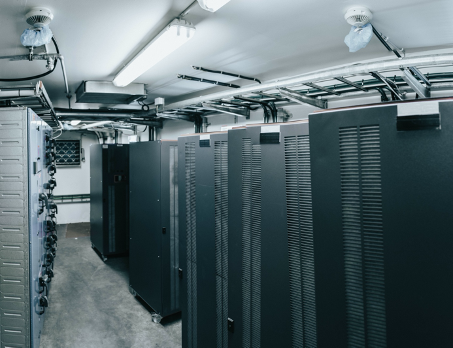 All 5 cabinets are connected together through one communication bus, each has an external manual by-pass and can be monitored through only one monitoring solution. This solution was delivered with our T4S controller that grants our customer a full access to the system. As a consequence, no additional special service software or service technician is needed, our customer is independent. 
Parallelized sets of batteries keep full power available anytime
We went a step further as we provided the customer with the parallelization of the batteries. The common communication bus enables to connect all DC sources (batteries) together. This means that battery backup is available for other cabinets even if one UPS fails. Moreover, if one battery is disconnected or fails, the other 4 will feed the 5th cabinet.
Conclusion
The customer had specific requirements that we were able to fulfill thanks to the flexibility of our modules and our team. The collaboration with our partner and the mutual trust were also a key to our success.
You are in a similar situation? Together, we will find a solution!
Let's discuss your project