Meet Olivier BOMBOIR, Director of Product Management, Marketing & Business Development.
Olivier Bomboir has been working for CE+T since 1990. Rather logical for an Electrical Engineer, his experience at CE+T began in the R&D department. In 1997, exports were growing and Olivier changed his role to become Director of Sales, Product Management and Marketing. A few years later, CE+T became a large company and Olivier then concentrated on Product Management, Marketing and Business Development. Meet this man with multiple hats.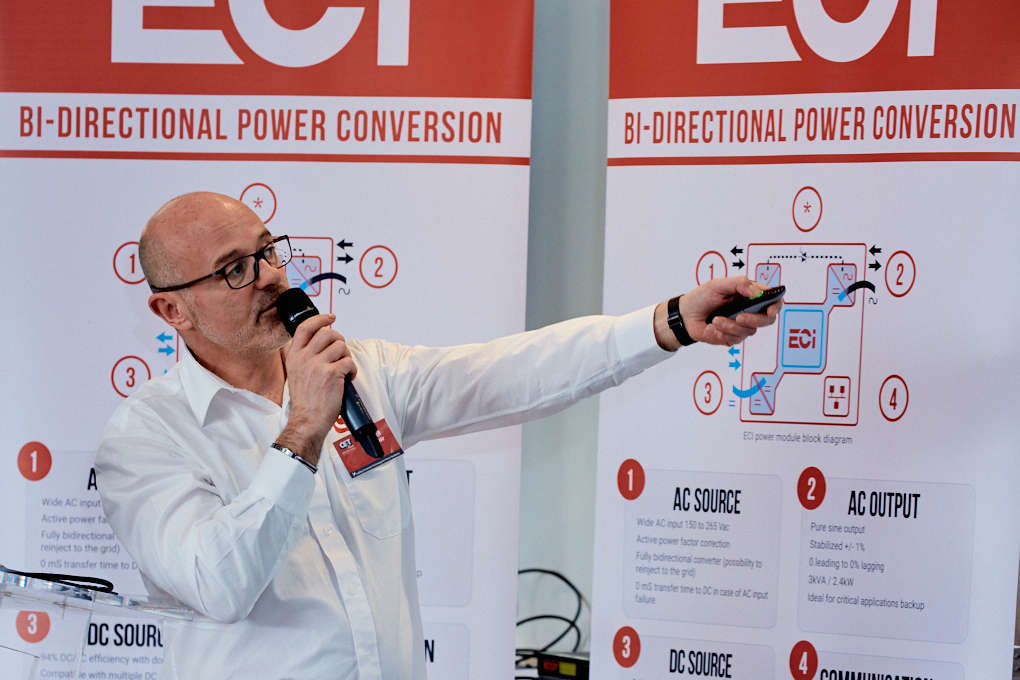 Olivier Bomboir during a partner event
What do you like about CE+T Power?
It represents a big part of my life. Nineteen years ago, we bought out the company with 6 other managers. Since then, I saw the company growing and I have contributed to its growth like a parent looks at his baby. What I like about CE+T Power is that we are always questioning ourselves and innovate every day. When I wake up, I'm always wondering "what nice will I accomplish today?".
What is exciting about your job here is…
The energy revolution. Today, energy consumption is changing, and we have multiple sources of energy. By combining them and integrating intelligently, we can create unlimited solutions for our customers that are beyond everyone's reach. That's something really exciting for an engineer!
What are your hobbies?
I have multiple hobbies but my favourite one is to work on the Royal & Field motorbike I bought in 2012 and the one I've just bought. I also really enjoy taking a walk in the countryside with my dog and my future wife.
If you had to recommend a book, which one will it be?
I like to get away from the daily routine when I'm reading. The last book I read was "L'équation Dieu" (God's equation) written by the Bogdanov brothers. I appreciated this book because it is talking about maths (which represents my engineer side) but also the link between maths, the nature and what is happening in the hereafter.
Which type of music do you like the most?
I like the folk rock from South East of United States. When I listen to the musique I only pay attention to the melody and almost never to the lyrics. I like this kind of music because the melodies are so beautiful.
What is your favorite film?
I'm passionate about Star Wars. I watched this series when I was a teenager because they were a step ahead compared to the reality. This may be the reason why I appreciate it so much as I am always asking myself what the new solutions of tomorrow will be.
What is your favorite quote?
« Tomorrow is another day. »
LinkedIn Profile
Contact Olivier