Terug nieuws
news
Inview 6: Revolutionizing User Experience with an Enhanced Touchscreen Interface
Products • 27.07 2023
CE+T Power is proud to unveil Inview 6, a groundbreaking monitoring and control system that is set to redefine the user experience, offering a remarkable improvement in usability through an overhauled touchscreen interface.
Introducing Configurable Widgets
With a focus on enhancing the user experience, CE+T Power has meticulously designed an intuitive and visually engaging interface for Inview 6. The system now features state-of-the-art widgets that provide users with easy access to critical system information at a glance. This level of customization empowers operators to have a comprehensive view of their systems in a single, concise dashboard, enabling streamlined operations and significantly reduced response times.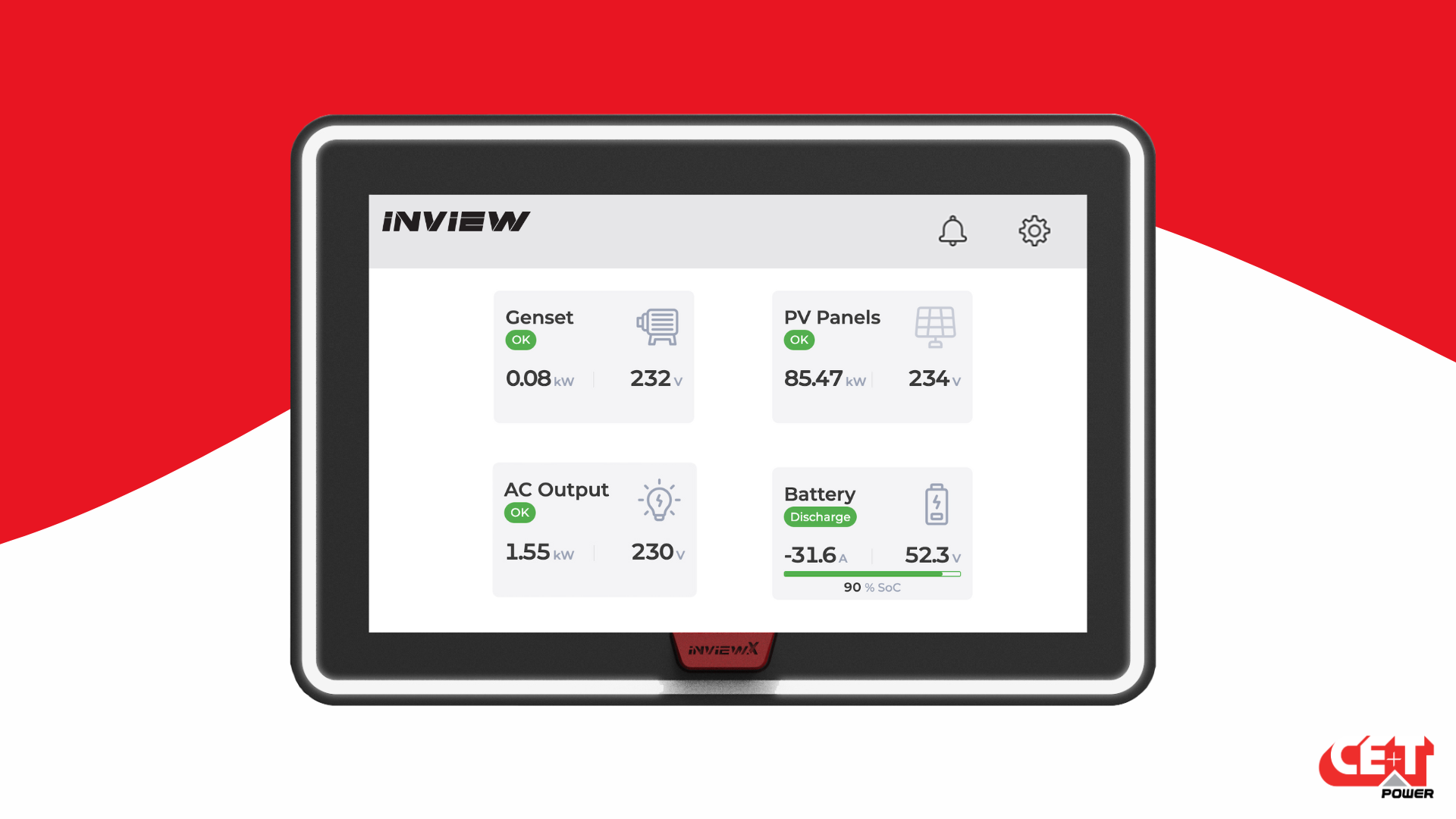 Customizable Dashboard
The newly introduced widgets offer a seamless way to visually monitor the status of power conversion systems, as well as other connected equipment such as batteries, gensets and PV panels, enabling quick and informed decisions. Users have the freedom to personalize their dashboard by arranging the layout and data display inside widgets, based on their specific preferences and requirements.
Versatility Across CE+T Hardware
Inview 6 continues to demonstrate its versatility by being compatible with our range of hardware products, including Inview X, Inview S, Inview Slot and Inview XC. Inview offers a fully responsive experience across all platforms. Whether using the web version on desktops, tablets, or mobile devices, or accessing it through various hardware with different screen sizes, the software and widgets automatically adjust their display, ensuring a consistent and user-friendly interface for all users.
Whether it's a compact setup like Inview Slot or a larger-scale installation like Inview X, this adaptability not only enhances user convenience but also allows organizations to choose the hardware configuration that best suits their specific monitoring and control needs.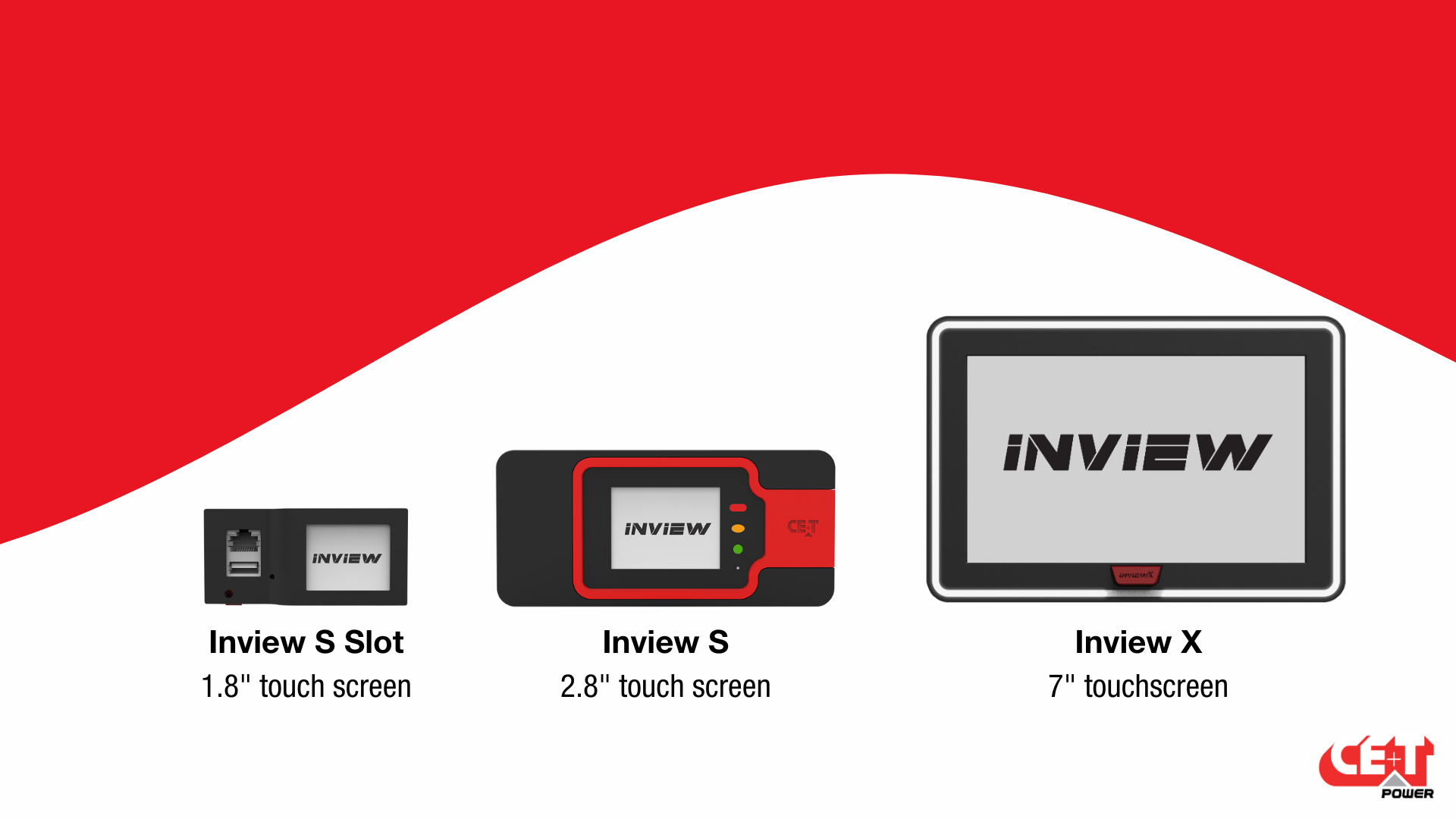 Seamless Integration with Web Interface
For users seeking more in-depth information or detailed analytics, Inview 6 continues to offer seamless integration with the web interface. We have also worked on enhancing the web-based UX by making the configuration and parameter management more user-friendly. By combining the convenience of a touchscreen with the comprehensive insights of the web interface, users gain access to real-time status and performance data of their systems, empowering them to make informed decisions and optimize operations effectively.
Empowering Organizations with Intelligent Power Management
The launch of Inview 6 serves as a testament to CE+T Power's unwavering commitment to delivering cutting-edge solutions that improve the user experience. As part of our dedication to providing innovative solutions that support our customers in their energy transition journey, Inview 6 represents a significant milestone in empowering organizations with efficient and intelligent power management solutions.
With Inview 6, CE+T Power continues to pave the way for advancements in power conversion technology, enabling businesses to embrace a sustainable and reliable energy future.
Click on the link to test our Inview Software
Want to give it a try?