Volver a las noticias
news
Successful integration of CE+T Power inverters with Redflow
Business Cases • 08.06 2022
CE+T Power and Redflow are pleased to announce the successful integration of both their products.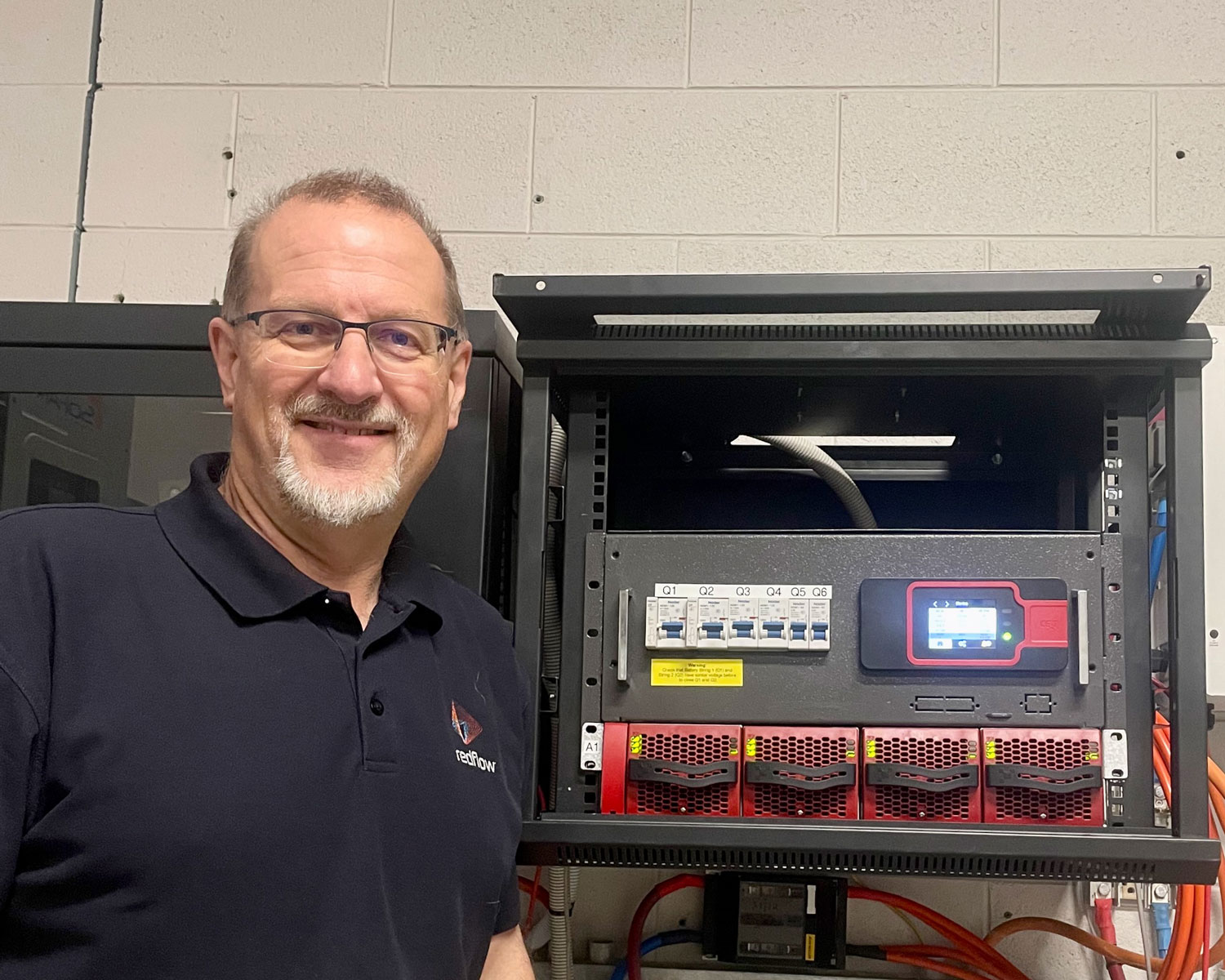 Successful integration of CE+T Power inverter
In alignment with Redflow's global growth strategy we are focusing on testing and integrating a range of inverters. It enables our customers to have the ability to select an inverter that best suits their needs.
The integration testing Redflow undertaken on CE+T Power's 'Sierra' power conversion modules was completed by Simon Hackett. He is Redflow's Battery Management System (BMS) architect at the Redflow Integration and Testing facility in South Australia. Moreover, it demonstrates the complete compatibility with Redflow's ZBM3 zinc-bromine flow battery.
Redflow CEO Tim Harris, explains the importance of this integration to Redflow growth and the ability to offer our customers a complete solution that is certified and approved for use now.
Compatibility of CE+T Power inverter and Redflow battery
"Using the CE+T product line enables Redflow to deploy its zinc-bromine flow batteries into SME and C&I projects, in both on and off grid scenarios, to deliver scalable and reliable energy supply. The CE+T architecture is highly flexible. Therefore, integrating our innovative flow batteries with CE+T hardware is easy for system integrators. That is to say it leverages the advanced capabilities of both product lines. We look forward to seeing this combination deployed to customers around the world" Mr Harris says.
Ian Rowlands, CE+T Australia BDM adds: "Our compatibility with the innovative Redflow zinc-bromine flow battery demonstrates the flexibility and power of our unique energy conversion architecture. From small deployments to large industrial sites, CE+T systems can scale with changes in customer requirement, alongside the equally scalable Redflow ZBM 48V flow battery modules»
Our multidirectional converters
CE+T's Sierra multidirectional conversion modules are revolutionary, fully bidirectional power converters. They are built on a high voltage DC backplane that interfaces with three distinct bidirectional energy conversion circuits built into each module. This integration demonstrates the flexibility and power of the CE+T Sierra product set.
The unique architecture of these devices creates reliable and flexible energy delivery for renewable energy projects, data centre power supply. In addition, it is suitable for other projects that require uninterrupted, high quality energy supply for instance.
"The Sierra product set is currently being tested for grid connection approval in multiple countries. Once approved, we will have the exciting potential to deploy systems with Redflow" Mr Rowlands concludes.
Flexibility and simplicity of our products
Simon Hackett, Redflow's Battery Management System (BMS) architect, says: "The integration between CE+T Power's Sierra products and Redflow's batteries was remarkably simple".
"CE+T have supported this integration by creating a support module for the Redflow BMS in their 'Inview' system controller. The physical connection between the two devices is a simple CANBus cable. As a result, the CE+T Inview system controller understands and automatically follows the charge/discharge limits of the Redflow energy storage array in real time» Mr Hackett says.
"The CE+T system is amazingly flexible. Moreover, the powerful energy handling system suits the technical requirements of our flow battery perfectly. Consequently, it delivers a truly 'carrier grade' outcome, suitable for any project that needs scalable and highly reliable site power» he adds.
The 10kWh 48V Redflow ZBM3 is the world's smallest production zinc-bromine flow battery. It won't catch fire, operates at high temperatures. Furthermore, it uses easily sourced and fully recyclable components. It can be charged to 100% and discharged to 0% every day. Multiple ZBM3's can be easily combined in parallel to deliver any required energy storage size.
Also looking for a successful integration?
Get in touch !