The SAN Group, a globally operating biotechnology company, made the decision to relocate their headquarters to Austria. Committed to innovation and sustainability, they aspired to power their new site with alternative energy, aligning their operations with their core values. Their objective was to create a self-sufficient and climate-neutral business park, which presented a significant challenge in ensuring a reliable energy supply.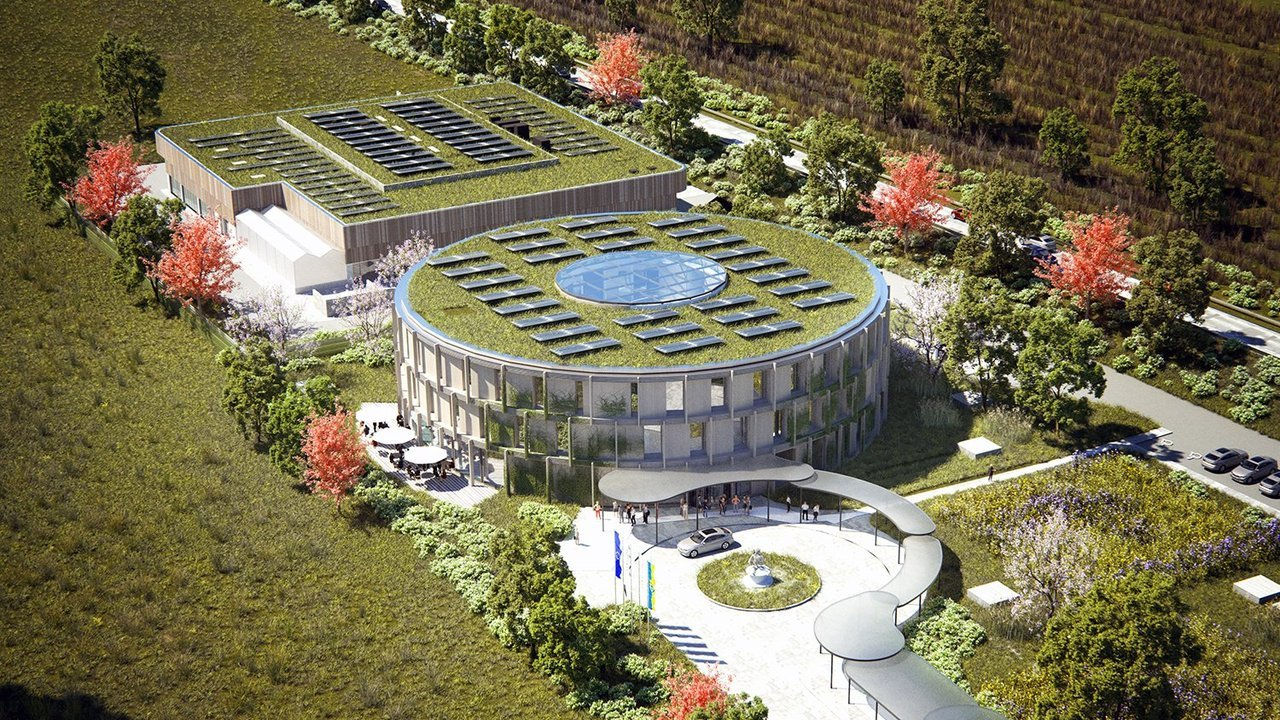 Photo credit : SAN Group
The cornerstone of their project featured primary energy sources, notably a 2 MW solar installation, complemented by battery storage and the production of hydrogen during periods of solar overcapacity. The hydrogen was dedicated for backup power and to fuel a H2 station for the local bus and car fleet. To turn this vision into a reality, they engaged the expertise of SFC Energy and CE+T Power, and benefited from the integration services offered by Gertek, a subsidiary of CE+T Power.
A project full of challenges
This project brought forth a set of formidable challenges, testing not only the project's feasibility but also requiring ingenious solutions to ensure its success. Here are some of the challenges:
Unknown Load Profile: The final load profile for the business park and backup operation remained uncertain until the project's final stages.
System Sizing Uncertainty: System sizing was reliant on customer assumptions, introducing complexity and risk.
Service and Installation Availability: Securing qualified service and installation companies for both hydrogen and electricity proved challenging.
Space Limitations: The physical space for installation was constrained, necessitating an efficient use of the available area.
Safety and Explosion Risk: Ensuring safety and mitigating explosion risks associated with hydrogen was a critical concern.
Tight Timeline: The commissioning had to be completed within one year, adding time pressure to the project.
Overcoming these multifaceted challenges was crucial in transforming the SAN Group's vision into a reality. SFC Energy, together with CE+T Power and Gertek, boldly accepted the challenge!
Empowering Sustainable Energy with SFC Energy, CE+T Power, and Gertek
The chosen solution involved the integration of technologies from SFC Energy and CE+T Power.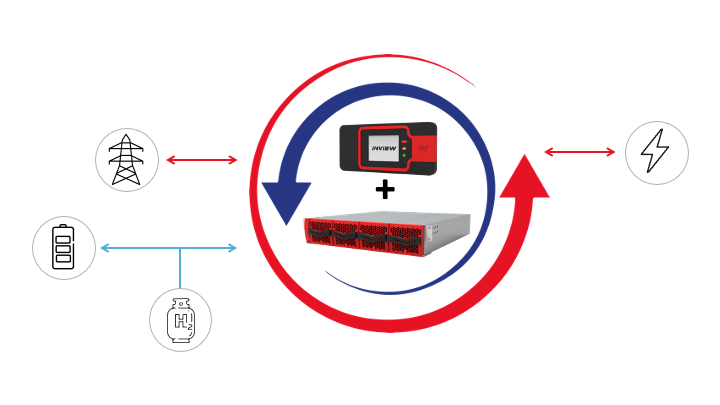 Key components of this solution included:
1.EFOY Hydrogen fuel cell 2.5
These versatile units, with a capacity of 2.5 kW, offer modularity and all operating at 48Vdc. They represent a category of fuel cell modules known for their silent, low maintenance and emission-free power generation, utilizing hydrogen as their fuel source. Specifically suited for uninterrupted power supply, especially during outages, these modules ensure a dependable source of electricity. Installation of the modules in parallel enables power scalability from 1.0 to 50.0 kW. In this case the Hydrogen fuel cell modules are integrated into a turnkey energy solution – the EFOY H₂Cabinet N-series, which is designed for indoor applications. In this comprehensive solution, five EFOY H₂Cabinets N10.0 are employed as a 50 kW turnkey system, ensuring power supply when needed to power the load.
2. CE+T Sierra Multi directional Converter System
At the heart of the energy conversion and backup system lies the CE+T Sierra Multidirectional Converter System. This integrated cabinet features Sierra 25 48/230-277 multidirectional converters arranged in cabinets, with a total of six shelves, resulting in a robust 72 kVA system. The inherent modularity of the Sierra system allows for scalability. The Sierra efficiently converts the DC output of the fuel cell into a stable AC output suitable for grid connection and other energy needs. This solution seamlessly connects to diverse energy sources, ensuring that energy demands are met at all times, making it a pivotal element of the energy infrastructure.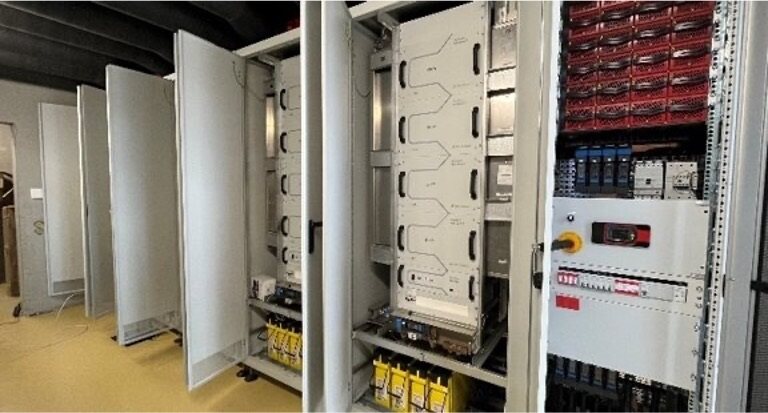 Photo credit : SFC Energy AG
Distinctive features of the solution
Energy Independence: The solution offers a high degree of energy independence, relying on solar power and hydrogen to meet the energy needs of the business park.
Scalability: The selected components are scalable and flexible, allowing for adjustments as the load profile and requirements evolve over time.
Safety: Rigorous safety measures and explosion risk mitigation were incorporated to ensure the safety of the energy infrastructure.
Efficiency: The integrated system aims to maximize the efficient use of available space, ensuring optimal power generation and storage.
Short Commissioning Time: The streamlined commissioning process enables the project to meet the aggressive one-year timeline.
A promising solution for the energy transition
Looking ahead, this fully integrated energy concept will serve as a model for self-sufficiency and climate neutrality. It leverages the power of solar energy, hydrogen production, and advanced backup systems to provide a reliable and sustainable energy supply for the SAN Group headquarters. As technology and renewable energy systems continue to advance, the project will stand as a testament to the feasibility of creating climate-neutral business parks with a strong emphasis on environmental responsibility and energy security.