Back to all news
news
Helping Bahamas' Telecom Infrastructure Recover
Case study • 14.10 2020
Background
In 2019 Hurricane Dorian struck the Bahamas and is considered the worst natural disaster in the country's history. This Category 5 hurricane pummeled the Abaco and Grand Bahama islands with sustained winds peaking at 185 mph (295 km/h). This hurricane destroyed the power grid and the telecommunications networks.
Bahamas Telecommunications Company (BTC), the primary telecommunications provider, needed to restore services quickly and searched for solutions to help avoid such interruption of services in the future.
Requirements
BTC needed a turnkey power solution that is quick to deployed, that utilizes renewable energy, and that is hurricane resistant.
The solution needed to:
Accommodate a mix of both AC and DC loads
Provide energy storage for when the grid was not available
Maximize energy efficiency with an intelligent control system
Orchestrate multiple energy sources including grid, battery, local generation and renewables.
Solution
Leveraging an autonomous, scalable and environmentally responsible design, HCI Energy delivered to BTC Hybrid Cubes. Hybrid Cubes harvest a combination of solar, wind, local generation, smart battery energy.  At the heart of the system is CE+T power converters that accept and deliver AC and DC power to provide the utmost reliable power to this island nation's critical telecommunication infrastructure. With this complete solution, reliable energy can be delivered anywhere, regardless of power grid accessibility.
What's in the Hybrid Cube?
The Hybrid Cube is a rugged, engineered shelter that conforms to ISO shipping container dimensions. The shelter is equipped with:
Retractable solar array
Lithium-ion smart battery storage
Modular power system with the maximum output power of 18KW
Generator with internal fill tank
Configured space for radio gear
Storage capacity of 39kWh to 78kWh
Complete CE+T Power high-efficiency power conversion solution
CE+T Sierra bi-directional converts
Sierra platform is a fully bi-directional solution, it can be used to service both AC and DC loads and charge batteries simultaneously. Moreover, at the heart of each module, there is a DC energy buffer where "the transfer of input power can take place in 0ms." This patented feature provides for seamless transfer of power and protect the critical telecommunication loads.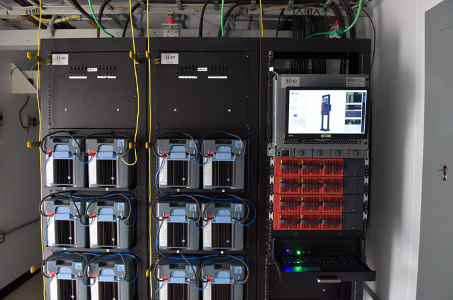 When the grid is OFF
The Hybrid Cube uses the battery as its primary source of energy. The Sierra bi-directional converters supplement the batteries with necessary power to carry the loads. This is done via processing power through Sierra modules from solar and generators.
When the grid is ON
Transferring from off-grid mode to on-grid mode is seamless. This is due to Sierra's patented technology which switches at 0ms from multiple energy sources.
Benefits
Fast recovery
As a turnkey solution, using the Hybrid Cubes in the Bahamas saves time and minimizes costs that would allow dedicated resources to rebuilding the power infrastructure. The Hybrid Cube enables residents and businesses to return to normal communications quickly, which will further facilitate recovery throughout the islands.
Given the island nation's geographically susceptibility for taking direct hits from hurricanes, the Hybrid Cubes will allow BTC to be hyper-responsive to potential future disasters by simply moving the Hybrid Cubes to newly impacted areas.
Easy installation
Once on site, the Hybrid Cubes require very little civil work for its installation and deployment; thus, dramatically reducing downtime of telecommunication services.
Cost Effectiveness
Costs associated with refueling, replacement and maintenance are all reduced as compared to a diesel generator solution. Off grid mode, up to 90% fuel reduction is possible due to the use of renewables and leveraging Lithium-Ion smart batteries.
By integrating wind, solar, battery and genset power, HCI Energy cost effectively optimizes these energy sources to meet the needs of the telecom industry and disaster response teams.
The Hybrid Cubes' container can survive hostile environmental conditions.  The Hybrid Cube container houses the genset, batteries, fuel, along with retractability of solar panels will limit vandalism and theft.
Conclusion
The telecom operator's challenge was to provide connectivity to all its subscribers even in a natural disaster or when the grid is unavailable. The Hybrid Cube solution satisfies this challenge.
More about Hybrid Cube?
Visit HCI website
Interested in Sierra modules?
Discover the complete range